Lightweight, powerful lithium-ion batteries for all makes and models of cars/ trucks,
Class A, B and C Motorhomes, Luxury RV Bus Coach Conversions, Yachts, Sailboats & more!


Group 8D batteries with 600 lithium-ion amp hours!!!
Weight: 145 pounds. Size: 23" x 13" x 12.87" overall height.
This single 8D battery at 145 pounds will easily more than replace 6 units of the Concord Lifeline 255 ah 8D batteries at 1100 pounds!!!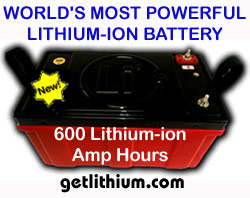 Details on our Partner site: getlithium.com




"When only THE BEST will do"
We sell the complete line of Lithionics Battery lithium-ion batteries in deep cycle, engine cranking or dual purpose deep cycle/ engine cranking battery formats. We have many sizes, power levels and terminal locations to suit your every lithium-ion battery need.



Be sure to check out the NeverDie System and wireless remote battery disconnect features on our Parent site at www.getlithium.com...
We offer from our North Vancouver warehouse location Lithionics Battery's superior, light weight, environmentally friendly and high performance 12 Volt/ 24 Volt/ 48 Volt lithium-ion batteries for all applications including Domestic and Import Cars and Trucks, Marine (yachts, sailboats etc.), Auto Racing, Recreational Vehicles (luxury RV bus conversions, Class A B C Motorhomes, 5th Wheel RV trailers, pop up camping trailers, truck campers), Motorcycles, Semi Trucks, Dump Trucks, Logging and Mining Industry Trucks, Heavy Duty Diesel Machinery/ Equipment and More. Whether you need a Deep Cycle Lithium-ion Battery or an Engine Cranking Lithium-ion Battery, we can get you the lithium-ion battery you need.
CARBON FIBER CAR AND BOAT RACING LITHIUM-ION BATTERIES:
Powerful, Lightweight Engine Start Lithium-ion Batteries with Real Carbon Fiber Cases.
The GT480-12V-SBS40-CF-ND weighs only 9 lbs., has 16.4 Lithium Amp Hours capacity (this is equal to 33 Amp Hours for a lead acid battery) and 1,440 Cold Cranking Amps. Click here to visit the lithium-ion racing battery main page...
IN STOCK
GT480-SBS40

1,440 Cranking Amps

16.4 Lithium Amp Hours

Only 9lbs!

IN STOCK
GT720-12V-G35-CF

1,600 Cranking Amps

24 Lithium Amp Hours

Only 12lbs!


GT960-12V-G48

2,200 Cranking Amps

32 Lithium Amp Hours

Only 15lbs!

IN STOCK

GT500-12V-G49-911-CF

1,200 Cranking Amps

24 Lithium Amp Hours

Only 10.5lbs!

For Porsche 911, AUDI R8
Lithionics Battery is the OFFICIAL Battery for the NISSAN DELTAWING RACE TEAM

Marine & Trucking Industry Lithium-ion Batteries
Our most popular lithium-ion battery.

Easily scale up a lithium-ion battery system with this battery.





Lithium-ion Batteries for Cars


Light Truck Lithium-ion Batteries


Motorcycle Lithium-ion Batteries



Heavy Duty Machinery
Lithium-ion Batteries


Environmentally Green Batteries

Our Lithium-ion Batteries have numerous advantages for Consumers and Industry across all markets. The following are just a few of the Markets we offer lithium-ion batteries for:

Made in the USA by Lithionics Battery ORDERS CALL: 778-340-0060
or
Email Us

Lithionics Battery Lithium-ion Batteries are far superior to Conventional Lead-acid Batteries. More Test Results and FAQ's...